ADVENTURE ALTERNATIVE - KILIMANJARO
Climb Mount Kilimanjaro to stand on the roof of Africa!
Adventure Alternative invites you to experience an exciting trip to scale the world famous Mount Kilimanjaro.
You can choose three different routes which take either seven or eight days to the summit of Kilimanjaro for an opportunity to experience this iconic mountain, from the stunning cloud forest and high volcanic plains to the famous glaciers on a vast summit crater over a mile wide. From the top which is nearly 6000 metres high you look down on a sea of cloud and the plains of Africa thousands of feet below. Our expert staff can take you there safely and over the optimum period of time to acclimatise properly and enjoy this remarkable challenge.
Flights are into Kilimanjaro airport in Tanzania and the lovely hotel in the town of Moshi, right below the mountain, is only forty minutes drive away. From the comfort of the hotel you can prepare for your climb and meet the guides. Over seven days you will ascend a total of just over 4000 metres over a distance of about 70 kilometres, and our success rate is 95% since 1991 when we first started our company.
You're in safe hands with Adventure Alternative, they provide professionally guided mountain climbs and expeditions around the world and can offer you all the help and advice you need to achieve your personal goals. The company owner is a mountaineer and applies the highest standards of mountaineering to this and all the trips in his company. Also, they offer bespoke bookings for private groups at no additional cost, plus lots of options for safaris afterwards.
Request the Adventure Alternative digital brochure today and start your journey to the top of Kilimanjaro!
SORRY, THIS IS NO LONGER AVAILABLE THROUGH THIS WEBSITE.
The Visual History of Adventure Alternative - Kilimanjaro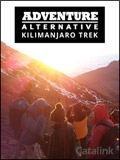 02 May, 2017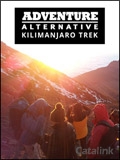 02 May, 2017