BLUE SEA HOLIDAYS - CRUISES NEWSLETTER
Making short-haul & worldwide cruises affordable
Sign up to cruise holiday offers from Blue Sea Holidays and find luxury cruises at prices you can afford.
Easy to book, all-inclusive cruises packed with extras guarantee to give you the cruising experience of a lifetime. Choose from unforgettable holidays to the Mediterranean, Caribbean, Baltic & beyond, all chosen for their unbeatable value and flexibility.
Why choose cruises from Blue Sea Holidays...
Receive discounts & offers on already unbeatable prices
Exciting itineraries keep you as busy as you want
Onboard leisure & entertainment facilities
4* accommodation
Tailor your trip to suit your budget
Sign up to the Blue Sea Holidays – Cruises eNewsletter now to always enjoy the perfect cruise holiday now!
SORRY, THIS NEWSLETTER IS NO LONGER AVAILABLE THROUGH THIS WEBSITE.
The Visual History of Blue Sea Holidays - Cruises Newsletter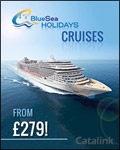 05 November, 2015