DESTINATION GOLF - SOUTH AFRICA BROCHURE
Combining premium golf and luxury travel

If you thought you'd experienced the heights of golfing pleasure, think again.

Destination Golf have created the ultimate in golfing paradise with luxurious African trips to some of the most picturesque courses in the world.

And they get you there in comfort and style. Experience the sophistication and elegance of Rovos Rail – the most luxurious train in the world.

Be a part of something unique with unforgettable golfing and safari trips. Find out how:
Golfing paradise – experience the prestige of courses such as the Champagne Sports and Sun City resorts
Natural paradise – see the breathtaking landscape on expeditions, excursions or simply from the train
Spectacular safari – take in all the pleasures of a wildlife safari inbetween games and whilst you travel
Travel in luxury – first–class comfort and luxury await on a fully–equipped, artfully restored rail journey
Unparalleled service – indulge yourself in privileged pampering from start to finish
And with added bonuses to suit the needs of non–golfers and first–timers alike, you needn't have to leave your friends or loved ones at home.

Experience the top–end of both luxury travel and luxury golf – all amid the natural splendour of the South African countryside. And with a £100 voucher if you register today, Destination Golf will help you make your holiday dreams a reality.

Order your Destination Golf – South Africa brochure now to enjoy the best of both worlds.

SORRY, THIS BROCHURE IS NO LONGER AVAILABLE THROUGH THIS WEBSITE.
The Visual History of Destination Golf - South Africa Brochure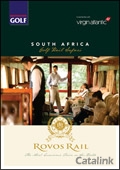 20 February, 2014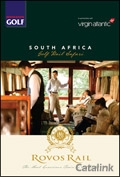 20 February, 2014