DESTINATION GOLF - USA BROCHURE
Teeing off around the world

Do you love golf but fancy a change of scenery? Do you want to go away but take your hobby with you?

Destination Golf have been crafting luxury golf holidays for over two decades. With a passion for golf that matches your own, they ensure that each trip is a guaranteed success – whether you win or lose.

So find out why a holiday with Destination Golf is a hole–in–one every time:
The best of the US – play the game to a stunning backdrop – bringing you the best of America
Hand–picked courses – spectacular courses to satisfy every style, taste and player
Luxury hotels – rest assured that there'll always be something to look forward to when the day is done
All abilities – there's a trip for every golfer – so no one need be left behind
Tailor–made – custom make your perfect getaway to suit your tastes and budget
Experience you can trust – professional and accredited – so you can leave the hassle at home
Destination Golf are dedicated to doing the sport justice. Their detailed brochure features a range of flexible options to have you at the top of your game.

And because they understand that arranging a holiday – for a group, a couple or for yourself – can be hard work, their goal is to take out all the stress.

Take comfort in knowing that your perfect course, the perfect hotel and the perfect surroundings are waiting for you already. And with a £100 voucher if you register today, Destination Golf will help you make your holiday dreams a reality.

No excuses. Come celebrate this renowned sport the way it deserves to be. Order your Destination Golf brochure now.

SORRY, THIS BROCHURE IS NO LONGER AVAILABLE THROUGH THIS WEBSITE.
The Visual History of Destination Golf - USA Brochure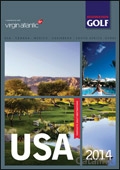 20 February, 2014
19 February, 2014