To order a printed copy of the Experience Switzerland - Lakes & Mountains brochure, simply click the Request button below.
Request Printed Brochure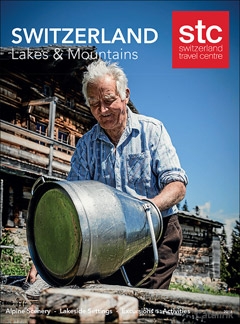 Experience Switzerland - Lakes & Mountains
Spectacular mountain panoramas, alpine peaks glittering with snow, gushing waterfalls in hidden valleys or a leisurely cruise on a paddle steamer over the blue waters of a picturesque lake - Switzerland is a truly authentic experience.
Experience Packages
The regions of Switzerland are remarkably diverse, as are our packages. They offer an ideal combination of air and train travel, accommodation, transfers and local activities.
Tailored to suit you
Prefer to stay longer, add another city or visit a special place? The flexibility of our packages allows you to change journeys and combine offers from across our entire product range to create your own personal programme. Discover Switzerland your way.
Touring, Hiking & Cycling
Touring Switzerland is particularly charming. Our tour of the Lakes Route now features deluxe hotels - explore the great outdoors before relaxing in luxury, the best of both! Other tours invite you to sample local specialities, get cultural insights or learn about watch-making. Our popular self-guided hiking and cycling holidays lead along dedicated tracks and trails throughout Switzerland and offer separate luggage transport.
New for 2018
Discover more of Switzerland for less with our digital Swiss Coupon Pass. Offering savings of up to 50% on various attractions, restaurants and more, get your digital copy when you book one of our packages.
We've adopted a Bernese cow! Introducing our new friend Bianca...
NOBODY KNOWS SWITZERLAND LIKE WE DO...