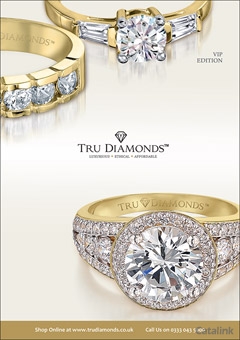 Luxurious, ethical, affordable diamond jewellery
Enjoy the allure of diamonds at affordable prices. Rings from £109.
TRU-DIAMONDS™ is a diamond lovers paradise with over 800 exquisite rings, earrings, necklaces, pendants and bracelets featuring TRU-DIAMONDS™ internationally renowned, non-mined gems of such high quality that only the top three percent of mined diamonds can match their flawless clarity, pure-white colour and perfect cut.
Even professional jewelers won't know your're not wearing ultra-expensive, top-grade mined diamonds.
The Tru-Diamonds™ Unique Triple Guarantee ...
90-Day "No questions asked" Money Back Trial
Lifetime quality guarantee
Lifetime replacement warranty
Request your copy of the latest Tru-Diamonds™ catalogue for the full range of truly beautiful jewellery.