VISIT GUERNSEY BROCHURE
Great things happen in Guernsey!
Welcome to the Bailiwick of Guernsey, where great things happen every day. From strolling along deserted, sandy beaches to action packed days, tantalising your taste buds or taking in our amazing heritage; with five Islands to choose from our island hopping breaks are just the ticket.
The Channel Islands are officially the sunniest place in the British Isles and you could be in Guernsey in as little as 45 minutes. Breeze through our airport or port and, in just 10 minutes, you'll be right in the heart of the Island's capital, St Peter Port, Europe's prettiest harbour town and Gold award winning RHS Britain in Bloom best coastal town.
A trip to Guernsey offers the comfort of knowing you are close to home, while feeling a world away. And with its own Guernsey pound you won't lose out on currency exchange either. With its enviable location, warm climate, stunning scenery, rich heritage and unique combination of British and French life, it's no wonder Guernsey people are so passionate about their homeland.
With stunning seascapes and breath-taking scenery, there is no better time to plan a visit than during our Spring Walking Festival (20 May-4 June) or Autumn Walking Festival (23 Sept-8 Oct). With more than 50 walks taking place over each festival, each led by knowledgeable and accredited Guides, it's a great way to find out more about the islands and their unique history - from Neolithic settlers to the challenges of island life under German Occupation in World War II.
Islanders are very passionate about their food and it's not hard to see why; rich in natural ingredients from both the sea and land, Guernsey, and its food, has a unique flavour.
From 14-24 September, Guernsey's Food Festival arrives on our shores; a real culinary treat for food lovers. Activities centre in and around the bustling capital of St Peter Port, but festival fever spreads across the Island with restaurant and cocktail bar promotions, live food shows, masterclasses, cook offs, chef exchanges, markets, children's activities, beer and wine festivals and much, much more. The popular Tennerfest follows on from this, where up to 170 Island restaurants take part in the annual six week food marathon that sees top eateries serving up three course meals from just £10.
So don't wait! Plan your holiday now and start making great memories happen today!
SORRY, THIS BROCHURE IS NO LONGER AVAILABLE THROUGH THIS WEBSITE.
The Visual History of Visit Guernsey Brochure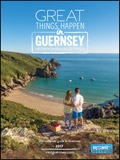 13 April, 2017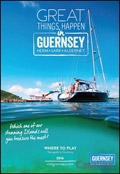 07 January, 2016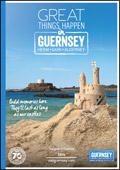 27 October, 2015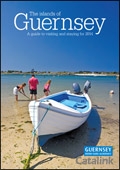 17 January, 2014