ADVENTURE ALTERNATIVE - MEDICAL ELECTIVES BROCHURE
We operate in several areas of Kenya, Tanzania and Nepal offering medical placements to students interested in combining their elective with the experience of differing lifestyles, cultures and medical treatment in developing countries. We integrate our medical students with the community and provide security and support through the very strong network of representatives and staff that we have in Kenya, Tanzania and Nepal.

We set up all the arrangements with the hospital or clinic and provide strong staff back–up to introduce you to life in East Africa or Nepal, and assist with the working routine. We provide the accommodation and transport and all the facilities you will need, and you also receive an allowance in local currency for your daily food and living costs. Most electives last six weeks and can be done at any time of the year.

We meet you at the airport and take you through each step of your experience and make sure that you get a good idea of the social side of life in these countries. It is very colourful and fun. We make your stay comfortable and secure without missing out on the essence of being in such diverse and incredible continents.
SORRY, THIS BROCHURE IS NO LONGER AVAILABLE THROUGH THIS WEBSITE.
The Visual History of Adventure Alternative - Medical Electives Brochure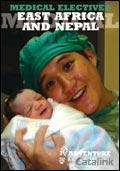 30 August, 2006