ALAN ROGERS ESCAPES - TOP FRENCH CAMPSITES BROCHURE
Indulge in a little more luxury while enjoying the lively atmosphere of campsite life with an Alan Rogers Escapes mobile home holiday.

Campsite life is made for spending quality time with your family. It's a time to discover new places together, relax by the pool and sit down to leisurely meals in the open air. A high specification mobile home allows you to enjoy all these benefits while ensuring maximum comfort and convenience.

They offer top quality, independently assessed campsites in the most popular regions of France. Just drive up, check in and start enjoying yourself. You'll find great locations, amazing free pool complexes, super facilities with restaurants, shopping and free evening entertainment all on site, and loads of activities from cycling, horse riding and quad biking to funky play areas, canoeing and aerial tree–top walkways.

Their mobile homes are all under 5 years old and you're assured of reliable quality, a consistent standard of equipment and the same clean, clear, contemporary design that makes the leader in campsite accommodation. They work hard to offer a good choice and excellent value, and they pride themselves on providing a friendly, personal service.

Request the extensive and exciting brochure for more details.
SORRY, THIS BROCHURE IS NO LONGER AVAILABLE THROUGH THIS WEBSITE.
The Visual History of Alan Rogers Escapes - Top French Campsites Brochure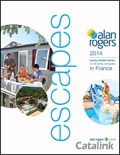 07 January, 2014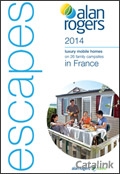 11 December, 2013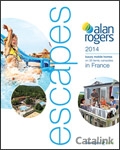 11 December, 2013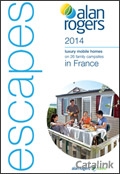 05 December, 2013