ANGLING DIRECT FISHING SUPPLIES NEWSLETTER
Top quality angling equipment at great prices
If you're hooked on angling, Angling Direct will help you find the bait, tackle and equipment you need to bring home a catch that will be the envy of all your friends. Whatever kind of fishing you're into, Carp or Pike, at Sea or Freshwater, you will find everything you need in their online store.
With thousands of products to choose from you'll be spoilt for choice:
Clothing – designed to keep you warm and dry in the coldest winters
Bait – whip the fish into a frenzy with scientifically advanced baits
Tackle – never lose a battle with lines and rods designed to withstand the biggest catches out there
The UK's top fishing tackle retailer
With over 30 years' experience in the fishing trade, their friendly sales team will help you find the perfect setup for your next fishing trip. They will guide you through their selection of over 10,000 items so that you can land 'the big one' next time!

Sign up for the Angling Direct eNewsletter today and start getting great offers and the latest news on top quality fishing equipment.

SORRY, THIS NEWSLETTER IS NO LONGER AVAILABLE THROUGH THIS WEBSITE.
The Visual History of Angling Direct Fishing Supplies Newsletter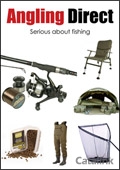 24 June, 2014