APT NEW ZEALAND BROCHURE
Nobody knows New Zealand like APT does. This sees us featuring its widest range of experiences to date including our new Flight Inclusive tours to New Zealand. Each tour is fully inclusive and is designed to appeal for different tastes. One is perfect for the first time traveller who wants the ideal introduction to New Zealand, while the other has been designed by the team to appeal to those who want the ultimate New Zealand experience.

Whichever tour appeals to you, you'll be travelling with a company which is proud to have New Zealand as its homeland.

SORRY, THIS BROCHURE IS NO LONGER AVAILABLE THROUGH THIS WEBSITE.
The Visual History of APT New Zealand Brochure

01 October, 2007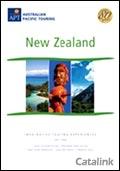 22 August, 2007