AUSTRIA TRAVEL BROCHURE
Austria is a diverse country, rich in culture, with spectacular scenery and an enormous variety of holidays to offer. Our programme includes the following great packages :

City breaks to all major Austrian cities including Vienna, Salzburg, Graz, Linz and Eastern European cities of Prague, Bratislava and Budapest, why not enjoy the advent markets or get away from it all this Christmas and New Year with our packages to all our main cities.

Spa breaks to the Austrian mountains, relax and get pampered with our inclusive and great value packages. Winter holidays to Seefeld.

Tailor Made service and our magical new service The Wedding Planner! Get hitched in one of many romantic and historical buildings of Vienna at less then the cost of a UK wedding, we can even arrange your honeymoon anywhere in Austria and beyond.

We pride ourselves on being the UK's top specialist Austria tour operator which means we can give you a dedicated service when booking your holiday.
SORRY, THIS BROCHURE IS NO LONGER AVAILABLE THROUGH THIS WEBSITE.
The Visual History of Austria Travel Brochure
07 November, 2005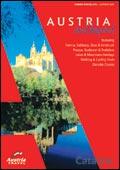 01 April, 2005