AUTHENTIC VILLA HOLIDAYS NEWSLETTER
Your Authentic Villa Holidays Start Here
A villa holiday offers so much, flexibility, privacy and unique locations, the handpicked range of Authentic Villa Holidays give you all these things, across a range of beautiful destinations. Start exploring today by signing up for the newsletter to ensure you don't miss out on any of the exclusive news and offers.
Find your perfect villa in Mallorca and relax on the white sandy beaches, wine tasting, vibrant towns, delicious cuisine and much more are all waiting!
Getaway in the Canary Islands, Tenerife, Gran Canaria and Lanzarote each have subtle temptations for all tastes. Dramatic landscapes in Gran Canaria take the breath away, Lanzarote is fast becoming a holiday favourite and Tenerife remains a big draw for family holidays! You'll find idyllic villas in each destination, offering the perfect base from which to explore.
Find villa holidays in the Tuscan countryside and get a taste for the spectacular food and wine or head to the island of Sardina for enchanting towns, national parks and everything else you would expect from Italy!
Sign up for the Authentic Villa Holidays Newsletter today and get the latest news and offers straight to your inbox!
SORRY, THIS NEWSLETTER IS NO LONGER AVAILABLE THROUGH THIS WEBSITE.
The Visual History of Authentic Villa Holidays Newsletter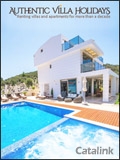 14 March, 2019