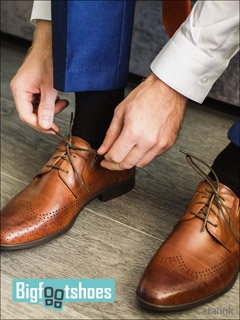 BIGFOOTSHOES CATALOGUE
To sign up to the Bigfootshoes Newsletter, simply click the Request Newsletter button below and you will receive updates on amazing special offers, discounts and new arrivals.
Request
Specialists in men's footwear in large shoe sizes
Struggle to find shoes in your size? Bigfootshoes is your new best friend.
They stock the largest choice of top-brand men's footwear in sizes 12 to 19, keeping your feet comfy and stylish at home, at work or on the weekend. Their mission is to help men with big feet never struggle to find their perfect shoes ever again.
Your favourite shoes, the premium brands, in the size you need ...
Browse sizes 12 - 19, standard, wide & extra wide
Top brands including Barker, DC, Merrell, Timberland, Skechers & more
Pampering online prices you won't find on the high-street
Shoe types including boots, brogues, trainers, slippers, casual, smart, sandals & lots more
SIGN UP for access to updates and special offers
Sign up for the Bigfootshoes newsletter today to receive the best prices on your favourite brands in the sizes you need.