BLUE WATER HOLIDAYS - SAILAWAY MAGAZINE
Sailaway Magazine is Blue Water Holidays' cruise magazine, featuring the latest news from the world of cruise, exciting destination features to whet your appetite for travel, insightful reviews and exclusive deals.
Issue 5 is crammed full of entertaining articles including a review of one of their best-selling cruises in Asia, Viking Cruises' Imperial Jewels of China, plus a Diary of a Sailing Cruise in the Caribbean. Closer to home, they have highlighted the changing seasons of the beautiful Norwegian coast in an exciting feature. They have also picked out their ten favourite excursions to do on a river cruise, with some surprises thrown in!
About Blue Water Holidays:
Blue Water Holidays is the UK's leading small ship and river cruise specialist, with over 15 years' experience in the cruise industry. They offer the widest choice of cruises exploring exciting destinations around the world, including the beautiful islands and ports of the Mediterranean, dramatic landscapes of Antarctica and spiritual cities of southeast Asia.
Their friendly and knowledgeable cruise experts offer independent advice to help you book your perfect holiday at the best price, with exclusive discounts and special offers. The award-winning team can also tailor your holiday with pre and post-cruise extensions and flights from a choice of airports.
SORRY, THIS IS NO LONGER AVAILABLE THROUGH THIS WEBSITE.
The Visual History of Blue Water Holidays - Sailaway Magazine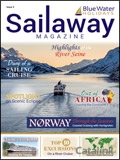 25 February, 2019