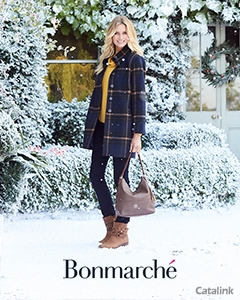 BONMARCHE NEWSLETTER
To request the Bonmarché Newsletter, simply click the Request Newsletter button below and you will receive exclusive offers and discounts you won't find anywhere else.
Request Newsletter
Making women over 50 feel fabulous
Bonmarché is the UK's largest womenswear and lingerie value retailer catering for women over 50.
Fantastic prices, flattering designs and a wide range of sizes guarantee you'll find year-round fashion to make you look and feel amazing.
Fashion designed with real women in mind
Stay warm with beautiful coats & jackets
Show-stopping dresses & occasionwear
Must-have trends & timeless styles
Bonmarché make finding beautiful clothes at the right price a joy. Flowing evening dresses, flattering everyday designs and seasonal womenswear will guarantee you find the perfect set of clothes for whatever occasion you need them.
Sign up to the Bonmarché newsletter now for exclusive offers and discounts on over 50s women's clothes.