BRIDGEND BITES BROCHURE
Bridgend - For Legendary Family Adventures
Stroll among some of Europe's tallest sand dunesSurf some of the UK's best waves
Delve deep into Wales' fascinating history
All to the stunning backdrop of the all-Wales Coast Path
The perfect spot for a fun-packed family holiday.
Dare to Discover a part of Wales you may not know much about. Easy to get to, the County of Bridgend lies between Cardiff, Swansea and the Brecon Beacons National park. This area is also part of the Glamorgan Heritage Coast - an area of spectacular cliffs, coves, sand dunes and miles of sandy beaches.
Request the Bridgend Bites brochure to help you discover things to DO, places to STAY and events to SEE in Bridgend County.
SORRY, THIS BROCHURE IS NO LONGER AVAILABLE THROUGH THIS WEBSITE.
The Visual History of Bridgend Bites Brochure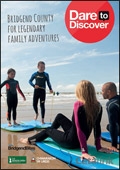 01 August, 2017