CANADA & USA ESCORTED TOURS BY ANDERSON NEWSLETTER
Canada and USA Escorted Tours
Anderson Vacations invites you to experience their incredible variety of escorted Small Group journeys to unique destinations across Canada and the United States. Explore or request for our 2017-2018 brochure to see travel options that visit every province and territory in Canada and include 35 unique and outstanding tours across Canada. We invite you to celebrate Canada's 150th Birthday with us.
Explore the popular 'must see' travel destinations like Rockies and Niagara Falls with our Classic Touring collection or head 'off the beaten path' for unique guided Small Group journeys with our Tours of Distinction.
Marvel at the Northern Lights in the Yukon on an adventure or journey through Atlantic Canada and meet Gaelic-speaking settlers from Ireland and Scotland from centuries ago and aboriginal Mi'kmaq people from thousands of years earlier who made this rugged, sea-swept coast their home.
Each exclusive escorted journey includes an expert tour leader, boutique style accommodation and unique experiences which will open your eyes to a whole new world. Order the Anderson Vacations 2017/2018 brochure today for inspiration on the trip of your lifetime!
We invite you to celebrate Canada's 150th Birthday with us. Join the celebrations and experience Canada on a tour with Anderson Vacations in 2017.
SORRY, THIS NEWSLETTER IS NO LONGER AVAILABLE THROUGH THIS WEBSITE.
The Visual History of Canada & USA Escorted Tours by Anderson Newsletter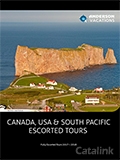 27 February, 2017