CELTIC HAVEN NEWSLETTER
A Welsh slice of holiday heaven



Clifftop 12thcentury cottages, award–winning spa treatments and second–to–none service is just some of what Celtic Haven offers.

This idyllic holiday resort nestles within the beauty and seclusion of the Welsh coast. Sparkling ocean views and striking cliffs provide the backdrop to deeply relaxing and soothingly pampering stays...
A picturesque holiday resort that adds the personal touch
Self catering cottages with a gourmet restaurant on site
Choose from 80 luxurious spa treatments
Swimming pools, a gym, golf course & more
Tailor your visit to what you need
For seasonal savings on a phenomenal, independent resort, sign up to the Celtic Haven eNewsletter now.
SORRY, THIS NEWSLETTER IS NO LONGER AVAILABLE THROUGH THIS WEBSITE.
The Visual History of Celtic Haven Newsletter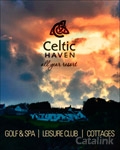 20 March, 2015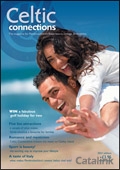 07 October, 2011