CLASSIC COTTAGES ENGLAND NEWSLETTER
Over 1000 holiday cottages across the south west
Cornwall, Devon, Somerset, Dorset, New Forest or the Isle of Wight - distinct holiday destinations where we've hand-picked the best selection of places to stay. Enjoy the freedom of self-catering in a cottage where everything is tip-top, a full inventory of everything you could possibly need, from the essentials of fresh bed linen and fluffy towels, to the non-essential, but surprisingly handy kitchen extras that make living in a new place that much more enjoyable.
Topnotch interiors
All our interiors are fully equipped, beautifully furnished and regularly inspected to keep everything ahead of your expectations. We want you to say wow when you walk through the front door, settle straight into your holiday and not want to leave at the end of it. Our owners go above and beyond to make sure you want to return again and again, with carefully laid out welcome trays, exquisite little decorative touches and added extras to make you feel at home.
Hot tubs and swimming pools
Throughout the portfolio, there's a wide range of properties to pick, each matching our high standards but all individual in their own right. Some have sea views, some have large gardens in the back of beautiful beyond; some have hot tubs to soak away your woes, others have full size heated swimming pools for the whole family to splash around in; many welcome pets just as warmly as the humans, others go all out to make sure babies are catered for.
Beautiful locations across the counties
Whichever county you choose, you won't be disappointed. Head to Dorset or the New Forest for a getaway not too far (but far enough) from London. Easy to get to, there are many hideaways just a stone's throw from the hustle and bustle, so you can find entertainment or stay in and create your own. Somerset is the county people drive through to get somewhere else, but did you know what you're driving past? There are some real gems hidden in the Quantocks and along the north coast so you can have all the fun of a beach holiday while staying in the great British countryside. Devon is a vast county with so much to choose from - two distinct coastlines and a whole lot of space in between. Head out onto the moors for vast panoramas and that carefree middle-of-nowhere feeling, or hunker down in a little village and immerse yourself in the local way of life. And then there's Cornwall. The quintessential seaside holiday destination, Cornwall has so much to offer it's worth driving that bit further for.
SORRY, THIS NEWSLETTER IS NO LONGER AVAILABLE THROUGH THIS WEBSITE.
The Visual History of Classic Cottages England Newsletter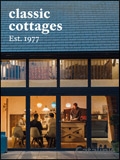 20 December, 2018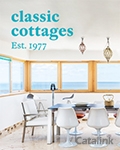 09 December, 2016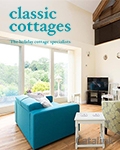 18 October, 2016

15 December, 2014