To sign up to the Dealchecker Holiday Offers Newsletter, simply click the Request Newsletter button below and you will receive amazing special offers, discounts and access to secret sales.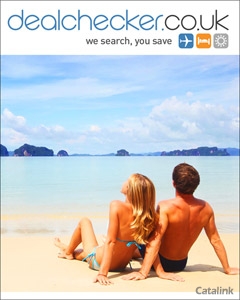 dealchecker – hand–picked travel deals for unforgettable holidays
dealchecker is a totally FREE and independent travel service that helps you find the best deals on the web.
Every week their travel agents hand pick the 20 best travel deals around and send them FREE to your inbox! Every deal is thoroughly researched to make sure that it's a real bargain and that there are no hidden costs. You'll never pay full price for your holiday again!
With global locations, a world of accommodation and out–of–this–world offers you simply can't afford to miss, booking a holiday has never been such a pleasure.
Experience it for yourself, sign up to the dealchecker Holiday Offers eNewsletter today.