DECATHLON SPORTS GEAR NEWSLETTER
Run, Cycle, Swim, Climb and More!
We're glad you love sport, DECATHLON love it too!
Welcome to the Decathlon family, a sports retailer with the aim of making sport accessible to all, whether it's running, cycling, swimming, climbing or anything else, through the passion of innovation and affordable pricing.
At Decathlon, we place innovation at the heart of our activities: from research to retail, including conception, design, production and logistics.
Our twenty in house brands known as our 'Passion Brands' channel all their energy into developing technical, good-looking and simple products, always at the lowest possible price.
The Decathlon newsletter sends you tailored offers and savings on our range of over 70 sports in store and online so you can find the perfect one for you.
Sign up to the Decathlon newsletter now to discover what Europe's largest sports retailer has to offer!
SORRY, THIS NEWSLETTER IS NO LONGER AVAILABLE THROUGH THIS WEBSITE.
The Visual History of Decathlon Sports Gear Newsletter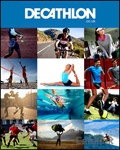 19 February, 2016