DISTANT DESTINATIONS - ACE CULTURAL TOURS NEWSLETTER
Fantastic Tours to Amazing Destinations!
There are many fascinating cultures that can be found outside of Europe, each with its own splendid styles of art, music, food and architecture. Join a cultural tour with one of the ACE Cultural Tour's specialist Tour Directors, and gain an extraordinary insight into each one of your destinations.
Sign up to the Distant Destinations newsletter today, and experience the fascinating history and culture of a wide range of countries for yourself!
With parts of the Middle East opening up to travellers, you now have the chance to experience the glories of Persia with our tour of Iran in 2017. Uncover the rich Persian civilisations that shaped this region from the Roman Empire to the medieval oasis towns.
ACE Cultural Tours has recently released dates for tours focused on opera in New York to the unique natural wonders of Madagascar and the rich cultural influences that have shaped modern Vietnam.
SORRY, THIS NEWSLETTER IS NO LONGER AVAILABLE THROUGH THIS WEBSITE.
The Visual History of Distant Destinations - Ace Cultural Tours Newsletter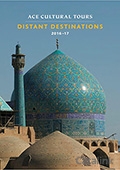 08 July, 2016