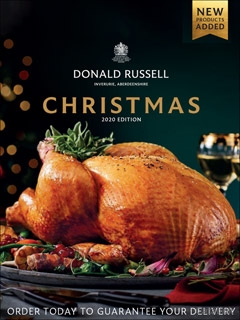 DONALD RUSSELL - SCOTLANDS FINEST BUTCHER NEWSLETTER
www.donaldrussell.com
To sign up to the Donald Russell - Scotlands Finest Butcher Newsletter, simply click the Request Newsletter button below and you will receive amazing special offers, discounts and access to secret sales.
Request Newsletter
For over 40 years, Donald Russell have cut the very best meat, by hand. Passionate champions of the craft of traditional butchery, they deliver exceptional quality to exclusive restaurants and hotels around the world, and homes across Europe, from their butchery in Inverurie, Aberdeenshire.
Known as 'Scotland's Finest Butcher', they have held a Royal Warrant for supplying Her Majesty the Queen for over 35 of those years. They are the UK's leading online and mail order butcher, and deliver on a day that suits you, professionally frozen for convenience.
They have long been renowned for the quality of their premium grass-fed, traditionally dry aged, hand cut beef and lamb, and now offer a complete range of meat, game, fish, seafood and poultry.
Besides this, their in-house Chefs prepare a wide range of exceptional slow cooked meats, ready meals, side dishes and even desserts, so you can enjoy convenience without ever compromising on quality.
Donald Russell have won a whole host of awards, are a recognised Great Taste supplier and hold the Feefo Gold Standard award for their dedication to quality and customer service. This is all backed up by a 100% no-quibble guarantee: 'your money back if you've ever tasted better'.
Donald Russell's newsletter details their wide range (the full range can be found online) which includes:
Grass-fed, traditionally matured British beef and lamb
Juicy, free-range pork and poultry
Award-winning sausages and burgers
Exclusively dry-aged, welfare friendly veal
Gourmet sides, ready meals and desserts