EASY-BREAKS.COM NEWSLETTER
Easy to call, easy to click, easy to go
Easybreaks is one of the UK's leading holiday companies, offering great value short breaks throughout the country.
They specialise in booking low-rate breaks in popular holiday destinations, and have accommodation breaks within more than 400 hotels throughout the United Kingdom and Ireland.
Hotels are spread throughout the UK and Ireland, from the bustling heart of London city to the serene seclusion of the Scottish islands - choose your ideal hotel and destination ... complete the budget to match.
View or order the easy-breaks.com catalogue now for top-value hotel breaks across the UK.
SORRY, THIS NEWSLETTER IS NO LONGER AVAILABLE THROUGH THIS WEBSITE.
The Visual History of easy-breaks.com Newsletter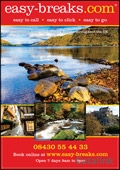 01 February, 2016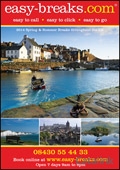 27 March, 2014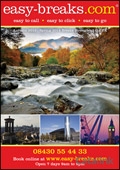 10 October, 2013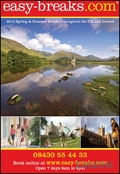 25 June, 2013