EBUYER NEWSLETTER
Electricals, appliances & gadgets - GREAT VALUE!
eBuyer.com is one of the UK's leading online suppliers of electricals.
Browse over 70,000 quality electrical products ranging from TVs and tablets to gaming accessories and software - all at unbeatable online prices. And if you subscribe to their newsletter you'll benefit from first-come offers on all your favourite gadgets.
The latest PC components, to let you build your own, or make upgrades to your computer:
Hard drives
Motherboards
Graphics cards from AMD and Nvidia
RAM
Soundcards
Power supplies
Processors
Hard drives/Solid state drives
Power supplies
Water cooling units
Sound cards
Mouse
Keyboards
HD monitors
Speakers
HDMI cables
The newest hi tech gadgets:
Tablet computers
Laptops for both work and gaming
Laptop bags
Smartphones from the top brands such as Samsung and Lenovo
Data transfer and external storage devices:
External hardrives
USB memory sticks
Blank DVDs/Blu-ray discs
Home cinema equipment for the ultimate entertainment experience:
4K HD TVs
Surround sound speakers
Gaming headsets and headphones
Blu-ray and DVD players
Projectors
Online streaming devices
Office equipment - essential for any workplace:
Printer and printer ink cartridges
Pens and all essential stationery
Packing materials
Networking cables and devices
Sign up to deals from eBuyer.com and start shopping gadgets, tablets & electricals for cheaper than high street prices!
SORRY, THIS NEWSLETTER IS NO LONGER AVAILABLE THROUGH THIS WEBSITE.
The Visual History of Ebuyer Newsletter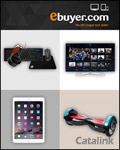 18 April, 2016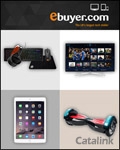 18 April, 2016
18 April, 2016
23 August, 2012