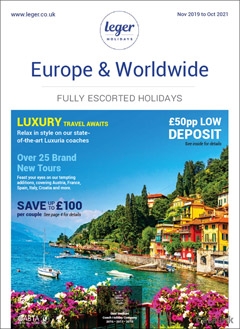 Europe and Worldwide Tours
Whether you're a frequent traveller or a first-time booker, on a Leger holiday wherever you go, you're in good company.
Leger Holidays offer fully escorted tours that enable you to focus on the good times, make new friendships and share incredible memories. Offering choice and flexibility, their selection of tours is always growing and each one includes exceptional excursions and an abundance of remarkable sights.
Travel by luxury coach, air or cruise to over 30 destinations throughout Europe and worldwide. With a wide range of holidays from tours of Europe, Grand Explorers, Short breaks, River Cruises, Christmas Markets and holidays for Single Travellers, plus much more, Leger has the perfect tour to suit who you are.
So dive right in, a million memories are waiting to be made… join the Leger family and request your brochure today.