GLAMOROUS BRA STRAPS CATALOGUE
The elegant alternative to plastic bra straps!

Glamorous Bra Straps is the market leader for inter–changeable bra straps with the largest collection of beautiful designs and colours to choose from.

Encrusted with Swarovski crystals, diamante and glass beads, Glamorous Bra Straps not only look elegant and chic but also give you the support you need. For the first time, women now have an alternative to those uncomfortable plastic bra straps that turn yellow and stick to your skin. If your bra straps are going to be on show –then why not make them beautiful and eye catching?

Glamorous Bra Straps give women the freedom to dress in any way they like without worrying about bits of their underwear are on show or the need to re–arrange their clothes every 5 mins!

Packed in beautiful gift boxes, glamorous bra straps make the perfect gift for you or a friend. It is a timeless product for all ages, which can be worn throughout the year.

Glamorous Bra Straps will look stunning with the following style of outfits:
Off the shoulder tops
Small strappy tops or dresses
Halter neck tops. Outfits that have a deep cut at the front or back of shoulders
Strapless tops
Bikinis
Swimming costumes
Wedding Dresses
Guaranteed to turn heads...
SORRY, THIS CATALOGUE IS NO LONGER AVAILABLE THROUGH THIS WEBSITE.
The Visual History of Glamorous Bra Straps Catalogue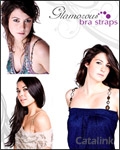 18 April, 2012
04 November, 2008

20 October, 2008