CLICK BELOW to sign up to your FREE 30 DAY TRIAL with Gourmet Society and receive 25% off the total bill - including drinks and 50% of food at your favourite restaurants across the UK!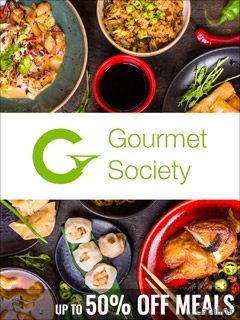 Great savings at a huge variety of restaurants!
If you love eating out but want to save money, Gourmet Society is the place for you. You can claim your free one month membership today! Giving you 25% off the total bill - including drinks and 50% off food.
The Gourmet Society is one of the UK's leading dining clubs with members enjoying great discounts at restaurants including, Cafe Rouge, Bella Italia, Prezzo, La Tasca, and Strada. Plus, choose from thousands of local restaurants, pubs and even Michelin–starred venues.
No payment details are required, simply claim your free membership. Plus, you can access Gourmet on the go with the free app, access your digital membership card, search restaurant locations and track your savings – wherever you go, you'll never be without your card.
Your free membership offers you complete access to 7,000 restaurants nationwide and is completely unlimited.
Sign up your FREE TRIAL with Gourmet Society today for great savings and offers at your favourite restaurants!