GOWER YARNS NEWSLETTER
Products for knitting, crocheting, needlework & more!
Gower Yarns aim to provide you with an Aladdin's cave of products to compliment your hobby. Sign up to their newsletter today to explore all they have to offer.
Providing products for knitting, needlework, crocheting, haberdashery and more, you're sure to find the perfect items for your project.
The experts at Gower Yarns bring you nothing but the best quality products at great prices so that you can knit, sew or crochet with piece of mind.
Explore everything from knitting tools, textiles and yarns to patterns, books and storage - whatever your hobby, whatever your project, you can find something to assist you here.
Their beautiful yarn collection is unrivalled and will leave you amazed. With 4 ply yarns, glitter designs, chunky yarns and so much more, you'll be able to create the most beautiful designs.
Sign up to Gower Yarns newsletter today to explore a huge range of products for your love of knitting and receive member only updates and offers direct to your inbox!
SORRY, THIS NEWSLETTER IS NO LONGER AVAILABLE THROUGH THIS WEBSITE.
The Visual History of Gower Yarns Newsletter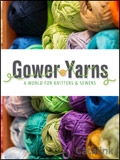 25 May, 2018