To sign up to the HomeVibe Newsletter, simply click the Request Newsletter button below and you will receive amazing special offers, discounts and access to secret sales.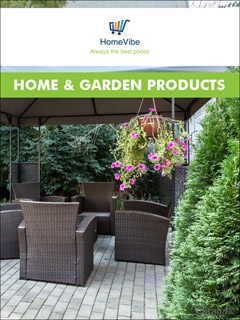 Home & Garden Products at Great Prices!
HomeVibe bring you a selection of home and garden products that won't be beaten on price! Sign up to their newsletter today to explore their full range.
With everything from bathroom products, bedroom decor and living room furniture to gardening accessories, kitchenware and more, you'll be able to find something perfect for your needs here!
The experts at HomeVibe are dedicated to bringing you nothing but the best when it comes to homeware and garden products. Stocking the latest trends in their range of affordable yet pure luxurious products, they can find something perfect for you.
From bed linen, feature lamps, storage solutions and pet beds to kitchen appliances, garden furniture and gazebos, there is a little something for every need at HomeVibe.
Find the solution for you, the most beautiful duvet set and more when you sign up to the HomeVibe newsletter today. You'll also receive member only updates and exclusive offers direct to your inbox!