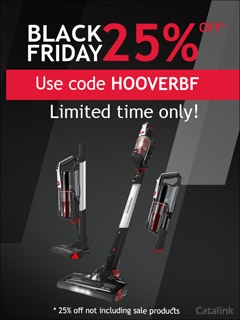 HOOVER NEWSLETTER
shop.hoover.co.uk/
To sign up to the Hoover Newsletter, simply click the Request Newsletter button below and you will receive amazing special offers, discounts and access to secret sales.
Request Newsletter
Small and large appliances for the whole home!
Hoover brings you a huge range of domestic appliances, all designed to make your life easier. Discover their range of small and large appliances when you sign up to their newsletter today!
Find a range of high quality, beautifully designed small appliances with Hoover. From steam irons, handheld vacuum cleaners and upright super powerful hoovers to floor steamers, floor polishers and carpet cleaners. Keep your home in the best possible condition with Hoover.
If it's large appliances you're looking for, Hoover have you covered. Discover dishwashers, washing machines, ovens and more when you sign up to their newsletter today.
Their incredible Wizard tech means that you can stay in touch with your appliances wherever you are. Connect your whole kitchen through wifi and stay connected the smart way. Use your smart phone to turn on your washing machine or set a timer!
With such incredible appliances and revolutionary technology that is designed to make your life easier, Hoover is a must-have in your home!
Sign up to the Hoover newsletter to receive exclusive member only discounts and updates from the appliance experts.