INSIDE VIETNAM TOURS NEWSLETTER
Expert tours and self-guided holidays to Vietnam
Vietnam is a unique fusion of phenomenal landscapes, exhilarating local cultures and majestic heritage.
Few tour operators unlock Vietnam with the same depth, passion and expertise as Inside Vietnam Tours. Boasting a huge array of themed holidays, each exploring a plethora of locations, experiences and local cultures, this brochure is your key to unlocking one of the most exciting destinations in Asia.
Why these are the ultimate holidays to Vietnam
Enjoy intimate small group tours
Expert leaders & travel consultants
Included excursions & unique experiences
Themed trips for culture, cities, wildlife & more
River cruises, group tours & self-guided holidays
Register for the Inside Vietnam Newsletter for the latest in unique adventures to Vietnam.
Click the banner below to step inside Vietnam with the all-new interactive street-view map!
SORRY, THIS NEWSLETTER IS NO LONGER AVAILABLE THROUGH THIS WEBSITE.
The Visual History of Inside Vietnam Tours Newsletter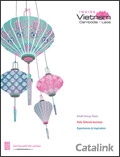 27 May, 2016