ITC HOLIDAYS CARIBBEAN NEWSLETTER
Pioneering your luxury holiday



Do you dream in golden sunsets? Do you yearn for crystal waters and swooning palms?

Because International Travel Connections do too. And they've spent decades transforming your dreams into unforgettable realities.

Their eNewsletter will whisk you away to the exceptional luxury of the Caribbean. With intimate knowledge of indulgent hotspots, unrivalled passion for superlative service and inspired creativity when perfecting an itinerary, their bespoke holidays will transport you on a voyage the likes of which you've never before imagined.
Destinations – from Barbados and Antigua to Trinidad and the Cayman Islands, traverse the shimmering delight of the Caribbean in whatever way you choose
Secret insights – a genuine passion for the locations they promote guarantees authentic local knowledge and personal recommendations
Tailored to you – you call the shots on where you want to stay, how
you want to travel, what you get up to – so leave the hard work to them
Themed – whether a couple's escape, an epic family treat or a fairytale
honeymoon, ITC specialise in arranging the perfect holiday for you
Reflecting Luxury
Fall asleep to the murmur of the tide. Sunbathe in private on a secluded beach. Savour the exquisite taste of master cookery.

Whatever your dreams, the only limit is your imagination, the only common factor – luxury. And to get you there at the best possible value, their eNewsletter will lavish tips, recommendations and offers on your inbox to get you inspired.

See a side to the world that everyone must see and sign–up to the ITC – Caribbean eNewsletter now.

SORRY, THIS NEWSLETTER IS NO LONGER AVAILABLE THROUGH THIS WEBSITE.
The Visual History of ITC Holidays Caribbean Newsletter
16 June, 2014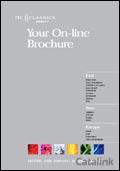 16 August, 2006