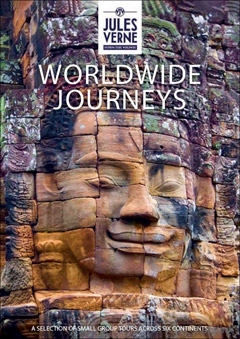 JULES VERNE – WORLDWIDE JOURNEYS BROCHURE
www.vjv.com
To order the Jules Verne – Worldwide Journeys Brochure, simply click the Request button below.
Request Brochure
Jules Verne are delighted to unveil a new Worldwide Journeys brochure covering departures until December 2023, bringing you innovative itineraries to across six continents delivered by travel experts. Travelling in companionable escorted groups, each itinerary has been carefully created to capture the essence of each destination visited, as well as allowing ample time to explore independently or to relax and soak up the sights. Packed with special touches and little extras, expert guides will show you the true character of each destination and take you beyond the norm, whether your chosen destination is closer to home or far-flung.
Jules Verne are delighted to launch two new tours in 2022 - 'A Week on the Nile' luxury cruise from Cairo and the Great Pyramids to the little known Amarna, visiting the new Grand Museum; and an all-new itinerary visiting the Kingdoms of Saudi Arabia - a first for Jules Verne. In addition to further departures and improvements on a wide-ranging global portfolio, some tours are added to the brochure for the very first time including a selection of Great Journeys; whether you seek an adventure somewhere extraordinary to celebrate that special event or occasion, or you wish to experience the travel adventure of a lifetime, as the world re-awakens, Jules Verne invites you to see the world through our eyes. And, for those closer to home options, the time is right to embrace the delights and treasures of the UK and Ireland.
This brochure features Early Booking Offers on a 'Grand Tour of Turkey' discovering its Greek, Roman, Byzantine, Ottoman, Hittite, Trojan and Seljuk heritage; and on a journey in Sudan, north from Khartoum, through the fringes of the Sahara desert, to the ancient lands of Nubia and the Kingdom of the Kush. Save £70 re-living the rich splendour of Spain's 'Golden Age'; visit 'Roman Africa' in September 2022 and save £50, or go further afield in November 2022 and save £100 exploring the most iconic monuments of India.
Jules Verne also offer an exceptional selection of No Single Supplement and Solo Group departures; join one of our classic touring, cruise, wildlife and classic resort programmes with No Single Supplement on selected dates, or a Solo Group departure comprised only of single travellers, following one of our regular programmes. Choose from Italy – a week staying at the 'Grand Hotel on Lake Como'; or a comprehensive journey exploring the 'Treasures of Sicily'. Explore the ancient Roman cities, crusader castles and Byzantine churches of 'Classic Kyrenia'. Combine the 'Pyramids & the Nile' cruising from Luxor to Aswan; or stay at the iconic Victoria Falls and at a special boutique camp on 'Victoria Falls to the Okavango'. Go off-the-beaten-track to the Golden Temple and the residence of the Dalai Lama on 'Sikhs & Exiles', or discover the 'Lost World of the Incas', to mention a few.
To enhance the experience, we arrange exclusive and memorable special events, illuminating the country and people you are visiting. Attend a special ceremony, performance, meal or drinks party at characteristic and spectacular locations; learn about cooking and the local way of life; discover less-visited corners or special locations not normally open to the public.
Following our customers' feedback, we always endeavour to improve our itineraries, taking into account customer requests, special opportunities and changed accessibility; follow improved itineraries on 'Island of Rhodes', 'Myths & Minoans', 'Serengeti & the Secret Migration', 'Discover Nepal', 'Wild Borneo', 'Patagonia to the Cape Horn', and more.
You'll enjoy a more intimate and sociable atmosphere with our average group size being 12; delve into your chosen destination in more detail, getting closer to the places visited and experiencing local life in a more personal and informal setting. We offer privately guided and small group options, so you can enjoy an even more personal experience with family or friends, visiting all the programmed sights, but with your own private vehicle and driver/guide.
Request the Jules Verne – Worldwide Journeys Brochure today for inspiration on the trip of your lifetime!