LEGOLAND HOLIDAYS NEWSLETTER
Legoland® Holidays - fun-filled packages for all the family
Make your children's dreams come true with a unique stay at Legoland®.
With more accommodation options than ever, new attractions, bricktastic rides and little extras to keep you mums and dads happy, the perfect family break is yours for the taking. Build yourself a holiday your kids will treasure forever.
Why families still love Legoland®
Marvel at famous sights made in Lego
Take part in never-before-seen seasonal events
Stay at the spectacular Legoland® resort
Choose from nearby, hand-picked hotels
Kids go FREE on dates throughout June
Live the life of a pirate all-new adventures!
Be the first to hear about new savings, offers & discounts
Enter the marvellous world of Lego for less
Now you can finally keep the kids happy at prices that won't make you cringe. The eNewsletter brings you offers and savings so generous you'll have to experience them to believe them.
Sign up to the Legoland® Holidays newsletter to indulge your children and inner child alike.
SORRY, THIS NEWSLETTER IS NO LONGER AVAILABLE THROUGH THIS WEBSITE.
The Visual History of Legoland Holidays Newsletter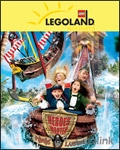 07 October, 2010