LITTLE BIRD - LONDON FAMILY DAYS OUT NEWSLETTER
Hand-picked ideas and savings for kids, teens and families.
Discover fun things to do and brilliant products for your family.
Littlebird is a one-stop shop bringing you the best ideas and savings on things to do, see and buy for your family. Browse family days out, family events, offers on tickets and so much more. Sign up for free access to discounts and you can search by category, theme or location - making planning the perfect family day out a total breeze.
Just a taste of the great ideas for families you could save on
Amazing offers on London attractions
Family days out across London and the South-East
Theatre, musical & events tickets
Theme parks, Zoos, Farms and more
Educational ideas, Magazines, books and more...
If you have kids, you need to sign up to Littlebird. Save time, Save money and get Inspired.
Sign up to Littlebird today for the best offers, deals and ideas on great places to go with your kids.
SORRY, THIS NEWSLETTER IS NO LONGER AVAILABLE THROUGH THIS WEBSITE.
The Visual History of Little Bird - London Family Days Out Newsletter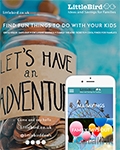 21 October, 2016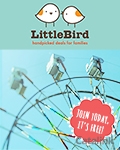 19 July, 2016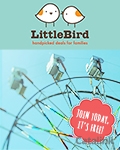 19 July, 2016