LUGGAGE SUPERSTORE NEWSLETTER
High quality branded luggage
Luggage Superstore bring you top of the range luggage brands at affordable prices. There's thousands of designs and some of the best brands on the market in a range of shapes and sizes so you can find your perfect travel bag! Sign up to their newsletter today to discover all they can offer you.
Shop the business range to get laptop bags and briefcases as well as conference folders and tablet cases. With one of the largest selections of business bags in the UK, there's exceptional choice!
Discover the cabin luggage collection to find sizes that conform to airline restrictions so you don't suffer any unwanted charges. There's stylish holdalls from the likes of Delsey and Bric's and wheeled bags to make your journeys as comfortable as possible.
With top brands like Calvin Klein, Ted Baker, Timberland, Antler and many more, you can find your favourite product at the best price!
Sign up to the Luggage Superstore newsletter today for news and offers on their incredible range of bag options!
SORRY, THIS NEWSLETTER IS NO LONGER AVAILABLE THROUGH THIS WEBSITE.
The Visual History of Luggage Superstore Newsletter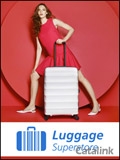 15 November, 2017
19 July, 2017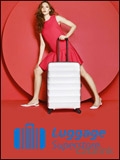 19 July, 2017