MACBETHS SCOTTISH FINE MEATS
Traditional Scottish Butcher & Game Dealer
Macbeth's Butchers provide high quality Scottish game and meat products to carnivores across the UK.
All their cattle are outside reared and grass fed to maturity on their own farm - they receive no artificial foodstuffs or antibiotics ever - so you always enjoy natural, well bred and well hung beef with every mouthful. They use traditional Scottish native breeds, Highland, Shorthorn and Aberdeen Angus. Their delicious range of lamb, pork venison and game comes from local Scottish farms and estates to maintain the high standards their customers have come to enjoy.
Sign up and discover why these meat products are better than your supermarket
Beautiful steaks, chops, burgers, sausages & casserole cuts
Full range of lamb, beef, pork & venison products
Exquisite free range poultry
Delicious home-made pies, black pudding and award winning haggis
Incredible online value for phenomenal quality
Fast dispatch & delivery by courier
Sign up to seasonal offers, member discounts and hear the latest updates from the Macbeth's Butchers newsletter
SORRY, THIS NEWSLETTER IS NO LONGER AVAILABLE THROUGH THIS WEBSITE.
The Visual History of Macbeths Newsletter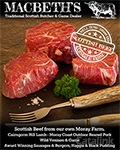 01 September, 2016
13 June, 2016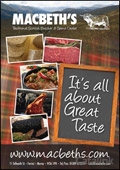 22 February, 2011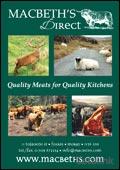 16 November, 2007