MCLOUIS FUSION MOTORHOMES BROCHURE
Italian Designed Coach Built Motorhomes
McLouis Fusion Motorhomesbrings you a high-quality, luxury range of Italian motorhomes. Request their free brochure to have a look around their Fusion motorhomes today!
Their motorhomes are designed with an advanced build - featuring a total absence of wood in the outer shell. Designed to bring a real taste of continental style to your life, you're sure to love their Fusion range.
Explore their range of motorhomes today, starting at 6 metres long, their Fusion models feature a variety of expertly designed practical layouts, including a plethora of high specification equipment.
The Fusion range offers 5 coach built models with practical fixed bed layouts tat can sleep up to four people in pure comfort. Their well equipped kitchen areas are perfect for cooking and entertaining whilst travelling.
Request your free copy of the McLouis Fusion Motorhome brochure today for a leading selection in luxury motorhomes!
SORRY, THIS IS NO LONGER AVAILABLE THROUGH THIS WEBSITE.
The Visual History of McLouis Fusion Motorhomes Brochure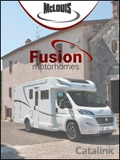 05 November, 2018