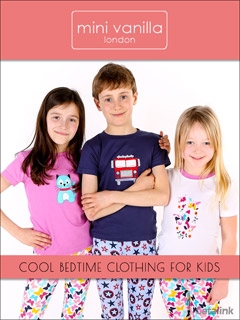 MINI VANILLA KIDSWEAR NEWSLETTER
To sign up to the Mini Vanilla Kidswear Newsletter, simply click the Request Newsletter button below and you will receive amazing special offers, discounts and access to secret sales.
Request Newsletter
This newsletter is temporarily unavailable



Designed by Mums, Mini Vanilla pyjamas make every bedtime special. For all ages from 1 to 12 years, the softest fabrics are brushed for warmth in the winter or left cool for the summer – but they are always stylish.

For boys, woven checks are used to make a grown–up traditional pj just like Dad's – but often with a matching bag for sleep overs. Soft cotton jersey is used for a more modern approach, with T shirt style tops coordinating bottoms. Motifs are cool (All star trainers, guitars and rock bands), crazy (creepy crawlies, video game monsters and robots) or classic (cars, football and aeroplanes).

Girls have pretty details like embroidered trims, lace, bows and smocking. Prints are sometimes pretty (ditsy florals), striking (butterflies and traditional paisleys) or trendy (Mary Quant style daisies) with floaty nightdresses and pretty, loose fitting tops. Sleepovers are no problem, with little matching drawstring bags.

The Mini Vanilla offer takes the cool bedtime look one step further with matching slippers and bathrobes. The colours in velour prints are cleverly coordinated with the season's offer of pyjamas to give an effortlessly great top–to–toe look. For cotton–lovers, there are beautifully soft micro–cotton toweling robes which are perfect for bedtime or bathtime.

There's no need to worry when the kids grow out of the traditional pyjama – perfect for nights chilling on the sofa, for putting on after a hard day at school, for sleepovers or duvet days is our sister brand, Vanilla Park. A multitude of fabulous checks, complemented by our signature stripe in the waistband, make loose fitting drawstring pj bottoms, Complemented by the softest, warmest fleece tops, the Vanilla Park lounge pants fit all kids up to 16 (and beyond – we all love them!)

So... whether it's for him, for her, for a gift or for your own kids, Mini Vanilla can always be trusted to make bedtime special!