MOSAIC HOLIDAYS MOROCCO BROCHURE
Mosaic Holidays – Luxury Holidays to Morocco
These holidays to Morocco take you beyond luxury, helping you indulge in whatever side of this glorious country you seek most.
Morocco offers travellers a captivating insight into a colourful world fused in Berber, Arabic, European and Mediterranean culture. It has always been a destination known for its traditional philosophies and ways of life.
The ancient ramparts that once protected the imperial cities, desert tents of the Nomadic Berbers, secret niches of the Medinas, architecture of the grande mosques and the private Riads, whose central courtyards families would criss–cross through and crowd around, still remain standing today.
Morocco's famous medinas are surrounded by ramparts and are often the guardians of Morocco's traditions and unique character. During the day, the busy souks and markets are at the heart of trading activity, where everyone is trying to make a sale and mint tea is always on offer.
The combination of sea and sand, open shoreline, busy souks and the towering Atlas Mountains that cut majestically across the land make each visit as bewitching and enchanting as the last. There's no place quite like Morocco!
View or order the Mosaic Holidays – Morocco brochure now to plan your holiday to Morocco now.
SORRY, THIS BROCHURE IS NO LONGER AVAILABLE THROUGH THIS WEBSITE.
The Visual History of Mosaic Holidays Morocco Brochure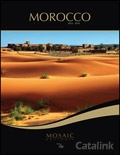 28 October, 2015