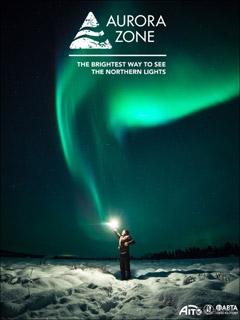 Tweet
Follow NORTHERN LIGHTS HOLIDAY WITH THE AURORA ZONE on Twitter
The Aurora Zone
- 3 hours ago
Witnessing a Solar Eclipse is truly a bucket-list experience, and most people are lucky if they see more than one i https://t.co/01yBViR84j
The Aurora Zone
- 8 hours ago
The first Northern Lights of the season have been spotted thanks to a surprise geomagnetic storm a couple of nights https://t.co/AUmH9A1jx1
The Aurora Zone
- 1 day ago
Join us this Thursday at 8pm for our free, live, online Q&A with astronomy experts Tom Kerss and Matt Robinson. You https://t.co/NW7WcJv9ml
The Aurora Zone
- 2 days ago
Head into the wilderness of Finnish Lapland to one of the wildest locations that we offer, Menesjärvi, with minimal https://t.co/2AoyUFNOZc
The Aurora Zone
- 2 days ago
Check out more amazing client reviews from our fantastic trip to the Wilderness Hotel Inari in Finnish Lapland here https://t.co/mj2AYg13q9
NORTHERN LIGHTS HOLIDAY WITH THE AURORA ZONE BROCHURE
This newsletter is temporarily unavailable
Bucket list Northern Lights holidays
A mesmerising and spellbinding celestial light show that has fascinated humankind for millennia; the Aurora Borealis is Mother Nature's greatest spectacle and is one of those epic travel experiences that simply cannot be missed.
As the UK's original Northern Lights holiday company, The Aurora Zone exists solely to maximise your chances of witnessing the spectacular Aurora Borealis and their award-winning team are dedicated to helping you tick this incredible experience off your bucket list. Sign up to their newsletters today to get the latest insight, exclusive offers and news!
The Aurora Zone has been built on years of passion, scientific research, expert knowledge and first-hand experience, resulting in an unparalleled collection of Northern Lights holidays in Finland, Norway, Sweden and Iceland.
With tours running from September to early April, The Aurora Zone offers a range of holidays from relaxed to more active breaks, so whether you would like to try snowmobiling, dog sledding, cross-country skiing or you simply want to enjoy some stunning parts of the world at your own pace – they have the holiday to match.
For your best chance of witnessing Mother Nature's greatest wonder, sign up to The Aurora Zone newsletter today!