OLD OBSOLETE XXX BIGBLUETUBE CATALOGUE
BigBlueTube – Signed Sports Memorabilia.

About Us...

In September 2000, bigbluetube started trading, with the aim of providing quality authentic signed memorabilia, at a price that all sports fans could afford.

We have now published over 170 limited editions, featuring many of the legends of sport and great sporting moments. Past signings have included such names as Pele, Jonny Wilkinson, George Best Jonny Wilkinson, Ian Botham and Nick Faldo. Our range continues to expand with new prints released every month.

We control every aspect of the production of our prints, from sourcing photographs right through to attending every signing. This means you can be completely assured of both the quality and authenticity of our prints. It also means that we can offer them to you at a price that many of our customers and competitors cannot believe.

Please enjoy the bigbluetube brochure and website.
SORRY, THIS CATALOGUE IS NO LONGER AVAILABLE THROUGH THIS WEBSITE.
The Visual History of OLD OBSOLETE XXX BigBlueTube Catalogue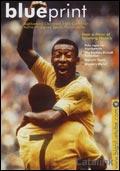 24 January, 2005