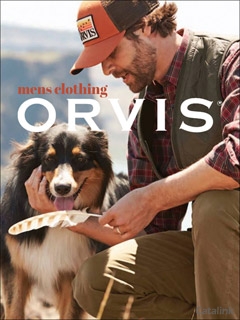 ORVIS MEN CLOTHING CATALOGUE
www.orvis.co.uk
To order the Orvis Men Clothing Catalogue, simply click the Request button below.
Request Catalogue
High Quality Men's Clothing available from Orvis. 100% Satisfaction Guaranteed. Since 1856, Orvis have been introducing their customers to a way of life that expresses a deep appreciation for the natural environment and to a lifestyle steeped in the sporting traditions and fly fishing.

All of our products come to you with a special guarantee. If you are not satisfied with your Orvis purchase at any time or for any reason, you are invited to return it for a prompt replacement, exchange, or refund. No fine print, no questions asked. Our 48–page men's catalogue includes a range of casual shirts, trousers, tee–shirts and accessories.