PACKAGE HOLIDAYS BY SOUTHALL TRAVEL NEWSLETTER
Flights and Holidays in a Few Clicks
Southall Travel is your one-stop-shop for all your holiday bookings, find flights, hotels and holiday packages across a collection of tempting destinations. Sign up for the newsletter today and get the latest news and offers sent straight to your inbox.
Find the ultimate summer holiday in the Bahamas with a choice of flight and hotel packages to suit your budget, stroll on the white sands of Seychelles or live it up Lanzarote... the choice is yours!
Treat your loved one to luxury escape in Phuket, the choice of hotels is nearly as outstanding as the wonderful assortment of things to do and see on your visit, uncover ancient temples and get in touch with nature with an elephant ride in spectacular scenery. Discover Dubai for less! With a choice of full and half-board hotel options, everything is down to your preference.
Enjoy a family holiday in Europe or take a safari in Botswana with your friends, Southall Travel has something that everyone can enjoy, the newsletter is the best place to start your journey!
Sign up for the Southall Travel Newsletter today and stay in the loop on all the latest holidays for 2019
SORRY, THIS NEWSLETTER IS NO LONGER AVAILABLE THROUGH THIS WEBSITE.
The Visual History of Package Holidays by Southall Travel Newsletter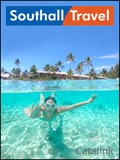 01 February, 2019