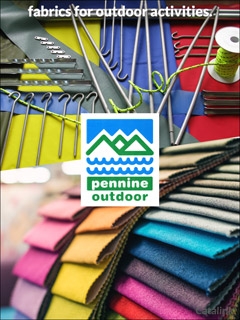 PENNINE OUTDOOR FABRICS CATALOGUE
Pennine Outdoor materials and fabrics are top quality – the best available.

We believe that over 30 years experience has given us a wide ranging knowledge in the variety of specialist outdoor materials available and under development. Likewise we feel able to advise impartially on the uses for which our materials are most suited. Pennine Outdoor is the only official UK stockist of Pertext in cut–length form.

Our knowledge and experience are at your disposal. Samples of fabrics are available and any materials not found on the extensive listings in our catalogue can usually be obtained if required. An unusual catalogue packed full of detailed information about their wide range of fabrics, patterns and instruction books. Accessories for camping, walking and travel ranging from zips and buckles to tents and clothing.

A must for the outdoor enthusiast, or anyone wishing to make their own clothing or accessories.