PLAIN LAZY NEWSLETTER
Your new favourite street-urban / skate / surf brand
Plain Lazy develop unique, cheeky and fun clothes for people who like the lighter side of things.
If you take a relaxed attitude towards life then these tshirts, hoodies and quirky accessories are for you. Clever slogans and funny statements dominate their hand screen printed clothes - perfect for taking it easy at home or tearing it up on the weekend.
A lifestyle newsletter to keep your inbox cheeky, chilled and refreshing ...
Perfect for surfers, skaters, bikers, loungers & people who like a giggle
Styles & sizes for men, women, kids & babies too!
Accessorise your bedroom with quirky, fun, essential extras
Stay grounded wit the latest news & savings from the world of Plain Lazy!
Sign up to Plain Lazy for the latest designs, fun comps and mailing list savings!
SORRY, THIS NEWSLETTER IS NO LONGER AVAILABLE THROUGH THIS WEBSITE.
The Visual History of Plain Lazy Newsletter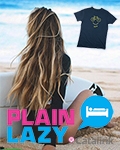 29 June, 2016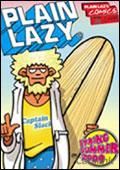 27 March, 2009