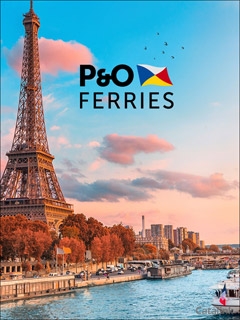 Tweet
Follow P&O FERRIES on Twitter
P&O Ferries
- 15 hours ago
Who doesn't love a fresh, warm baguette from France?! Follow Evan on his trip to France with us to bag the baguet https://t.co/9JRyXnIojl
P&O Ferries
- 18 hours ago
RT
@BelfastLive
: Get in the good books with your loved one by surprising them with a short break this Valentine's Day
#Sp
@POferries
https:
P&O Ferries
- 1 day ago
Need some inspiration for a European road trip? We've created the perfect road trip itinerary to set off from Calai https://t.co/psQUn3rMXq
P&O Ferries
- 1 day ago
Recruiting for... Account Management Executive (Freight) https://t.co/IZ1Ij0xZ53
P&O Ferries
- 1 day ago
Recruiting for... Head of Digital Marketing https://t.co/BTajs9BANB
P&O FERRIES NEWSLETTER
www.poferries.com
To sign up to the P&O Ferries Newsletter, simply click the Request Newsletter button below and you will receive amazing special offers, discounts and access to secret sales.
Request Newsletter
Plan your 2022 Holiday!
Explore Europe this year with P&O Ferries and find out where your next journey could take you…
From exploring the Alps in France, to foodie adventures in Belgium, or even taking in the natural beauty of Northern Ireland, there are a whole range of adventures waiting to be discovered across Europe.
Their team has everything you need to plan your next European holiday. Explore their destination travel guides today. They've got everything covered from top attractions and must see destinations, to hidden gems and exciting activities.
Plus, when you travel by ferry with P&O ferries you have the freedom to explore all these wonderful destinations at your leisure.
Sign up to the P&ampO Ferries newsletter today to see their Ferry crossings and get insider holiday tips direct to your inbox!