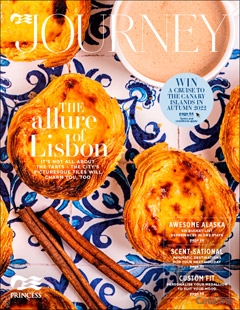 PRINCESS CRUISES DIGITAL MAGAZINE
www.princess.com/
To download a copy of the Princess Cruises Digital Magazine , click the button below and one will be sent to your email address as soon as possible
Experience The Princess Difference
Set sail with the world's #1 premium cruise line and experience The Princess Difference. Choose from over 380 destinations across all seven continents onboard our fleet of MedallionClass ships, featuring award-winning touchless technology for a cruise experience like no other.
With a Princess cruise, guests can discover the jewels of the Mediterranean, capitals of the Baltic and the stunning scenery of the Norwegian Fjords. All are within easy reach with sailings from Southampton or a fly-cruise. For those looking to venture further afield, they can discover the breathtaking scenery and wildlife of Alaska and the Canadian Rockies.
Explore the colourful Caribbean Islands or enjoy a front-row seat, gliding through one of the great wonders of the world, the Panama Canal. Experience the vibrant cities of South America, the idyllic shores of Hawaii and South Pacific or the wonders of Japan and South-East Asia.
Download a copy of Princess Cruises' digital magazine, packed with exciting news and articles to inspire your future travels!